Centre seeks to help Canadians stand on their feet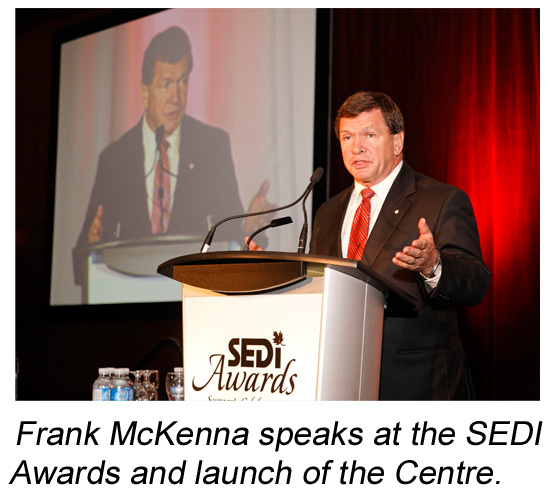 The first of its kind in this country, the Canadian Centre for Financial Literacy was launched by Social and Enterprise Development Innovations (SEDI) at the fourth SEDI Awards on November 13th, 2008, at the Westin Harbour Castle in Toronto.
The Centre's mandate is to create opportunities for lower-income people to plan and invest their savings. Over 4.7 million Canadians live on a low income, according to Statistics Canada. The Centre's objective is to improve the economic situation of more than 230,000 Canadians within its first five years of operation.
Centre's activities will include building the capacity of community organizations to deliver effective financial education services, and consulting on financial literacy to businesses, policy-makers and not-for-profit organizations.
"Behind this initiative – and everything SEDI does – is the promise to help people gain greater control of their lives and become self-sufficient," said Frank McKenna, deputy chair of TD Bank Financial Group and former premier of New Brunswick, in his keynote speech at the SEDI Awards and launch of the Centre.
First projects
The Centre is launching its capacity building work this winter. Through the Centre, program facilitators at organizations in Ottawa, Lac Seul First Nation (Ontario), Toronto and in communities in New Brunswick, Northeast Ontario and British Columbia will be trained to deliver financial literacy services to underserved groups. In each of these communities, the Centre will be working with low-income serving organizations to build their capacity to deliver financial literacy supports to the people they serve.
In Lac Seul First Nation, the Centre will train facilitators to offer workshops on money management to local youth. It is expected that the program will reach over 100 youth in its first year. Lac Seul is one of the largest First Nations in northwestern Ontario. It has a membership of about 2,700 people, two thirds of which live off reserve.
The Centre will be launching its information services work in the spring. Information services will be delivered through a web portal which will provide professional development support for trainers and will be a central point for information sharing.